Introduction
Regular physical activity is important to overall health, and walking is an excellent way to be active. Adults who engage in regular physical activity, such as brisk walking, are at lower risk of heart disease and stroke, type 2 diabetes, breast and colon cancers, and depressed mood, compared with inactive adults.
Adults who are regularly physically active may also obtain other health benefits and positive outcomes, such as maintaining or losing weight, improving sleep, and for older adults, maintaining their independence, reducing their risk of falls, and delaying the onset of cognitive decline and dementia.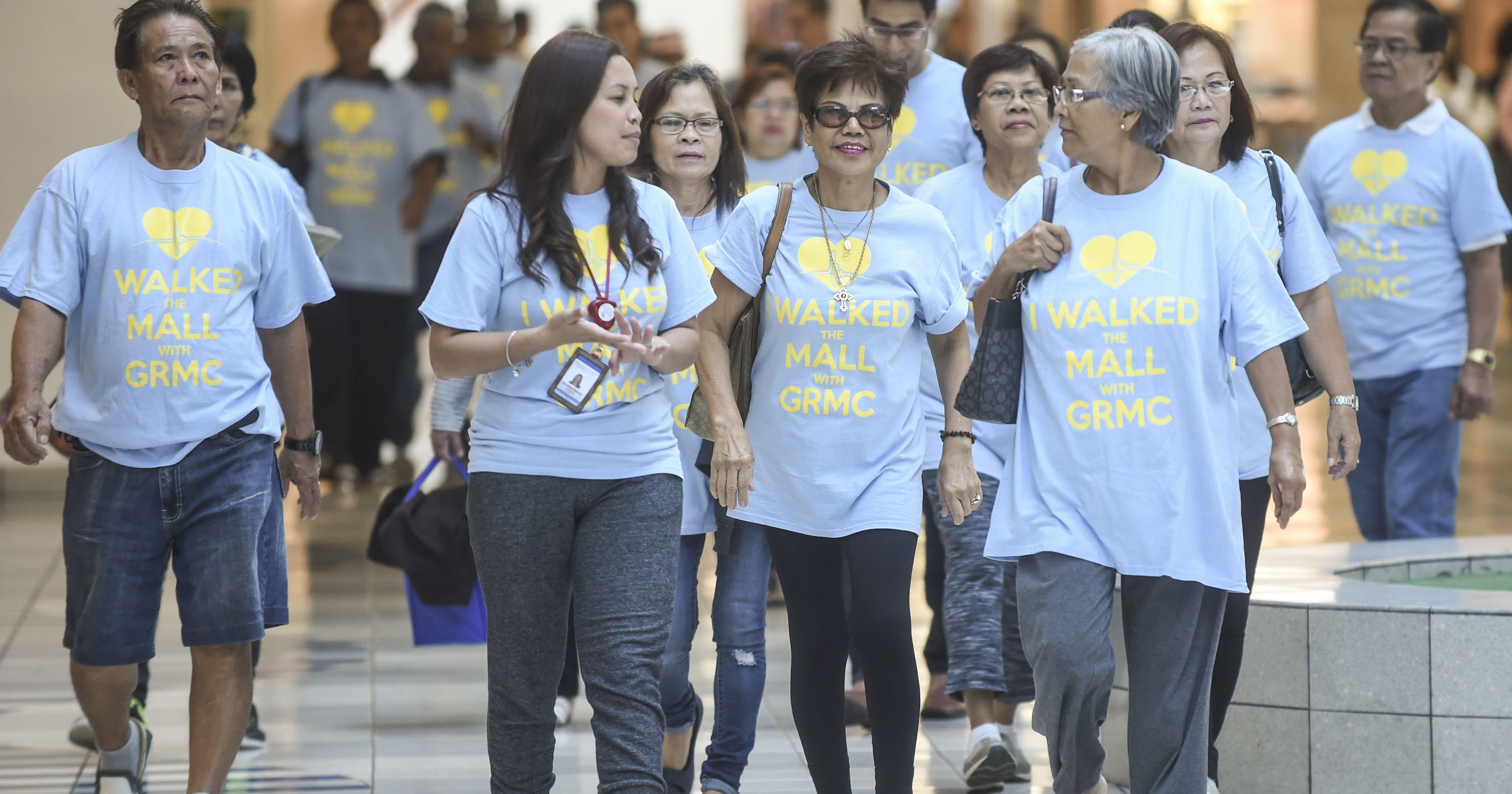 Most inactive adults can safely begin a walking program.
Walking can be done by the public and families. It is an activity that requires little or no specialized skills or
training,
and does not require the purchase of

expensive equipment or specialized attire beyond comfortable walking shoes. Persons who are inactive or unfit can begin a walking program safely. For busy adults, walking offers flexibility, compared to scheduled activities. Walkers can set their own pace to fit their level of fitness.
Physical Activity Recomendations for all Adults
To gain health benefits, national guidelines recommend that adults, including older adults, should obtain at least 150 minutes (2 hours and 30 minutes) a week of moderate-intensity aerobic physical activity, or 75 minutes (1 hour and 15 minutes) a week of vigorous-intensity aerobic physical activity, or an equivalent combination of moderate and vigorous-intensity activity.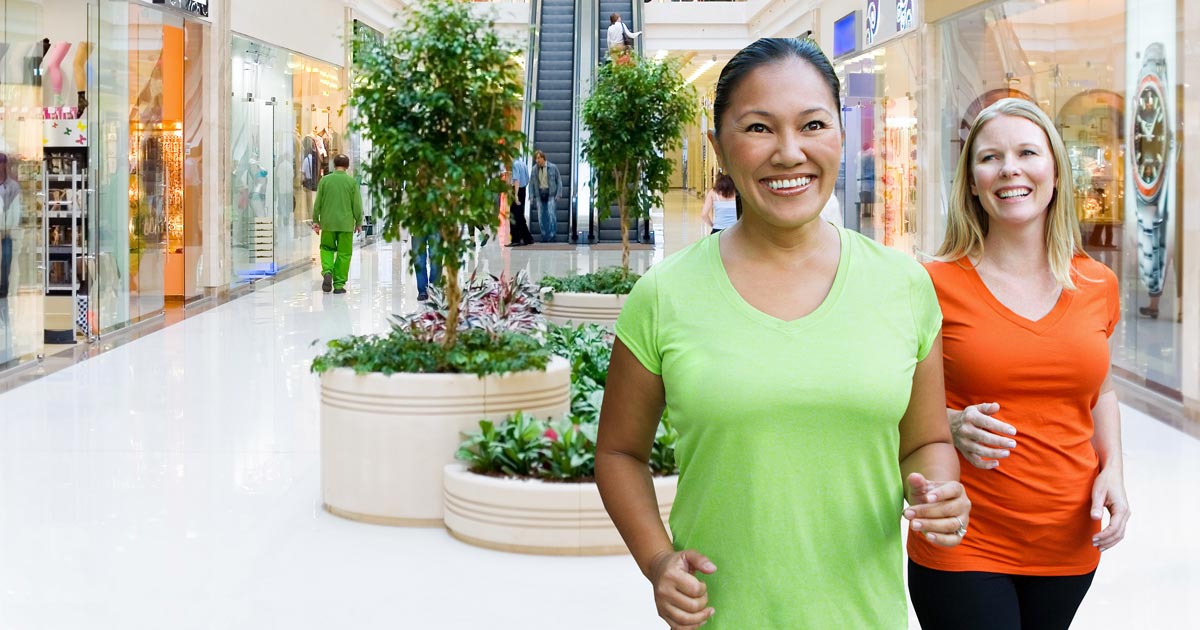 Why Mall Walk?
External conditions, such as extreme temperatures and inclement weather, may negatively influence walking and increase safety hazards.
Mall walking is considered a safe, comfortable physical activity mode. Malls are attractive places for walking because they provide a sheltered indoor environment free from the dangers of traffic congestion, and can be used most days of the year regardless of weather or seasonal differences.

Security staff is usually present so people feel less fearful and vulnerable when walking in malls than in more unpredictable environments. In addition, malls have level surfaces, benches for places to rest, water fountains for the availability of free water, and accessible restrooms.
Mall walking provides participants the opportunity to socialize and to shop at the various retail stores. Attractive programmatic features of mall walking programs are that they are noncompetitive, sociable and friendly, and mall walkers are typically not judged by their speed, attire, or physique.
Using existing malls and providing effective mall walking programs have the potential to address barriers to physical activity and to improve public health among many
Increase walking among midlife and older adults, who are typically less active than younger adults.
Walkers of all levels, ages, and abilities can participate in a mall walking program. Mall walking programs can be attractive to younger adults, such as mothers with strollers, those with chronic disease conditions, or those who are overweight. However, middle-aged and older adults represent may benefit the most from efforts to increase the number of mall walking programs in the nation.
Why join the Mall Walk Club?
FAMILIES
CAN DO IT TOGETHER
PENSIONERS OR OVERWEIGHT SAFE AND FRIENDLY
EXERCISE IN A SAFE ENVIRONMENT
WEATHER DO NOT INFLUENCE YOUR EXERCISE
NO SPECIAL OUTFITS OR EQUIPMENT needed
BATHROOMS AND WATER POINTS AVAILABLE
BENCHES IF YOU NEED TO REST DURING THE WALK
STROLLER OR WALKERS FOR BALANCE FRIENDLY
LEVEL SURFACES IF YOUR BALANCE IS NOT PERFECT
SAFE AND SECURE PARKING
MEET NEW FRIENDS
WALK AT YOUR OWN PACE
How to join the National Mall Walk Club and Benefits?
R150 per month payable on debit order allow you to walk at any mall in SA offering Mall Walking

You will receive a free gift when you register to the Mall Walk Club

Free Club Card when you register on line. Present your club card weekly to claim weekly Value Add Mall discounts

Weekly Value Add Mall discounts will be mailed to all club members on Thursday to claim the next Mall Walk

Weekly Newsletter with Value Add Mall discounts and weekend programs

Monthly special promotions and socials

Special Achievement Awards and prizes when you reach your personal goals

Qualified Health and Fitness Instructor will monitor and help set your personal
goals
what to do at the Mall Walk?
The Mall Walk is every Sunday between 7am and 9am before the mall open
Thursday - study your emailed FREE Newsletter and decide on a Mall and Program
Each Mall Walk will be unique and can vary in distance, activities and socials
Arrive before 7am at the assembly point as per the program
Sign the participation register
Write down any health concerns the Instructor should know about
Meet and introduce yourself to the Instructor
Mall Walk begins 7am at your own pace
Follow the Mall Walk markers
Finish at assembly point and log your distance walked for the day to qualify for special achievement awards
Social and Shop with your Mall Walk Club card